A Sustainable Roadmap for Small Tea Growers of Assam
Press Release:
Workshop-cum-training organised on 'Sustainable Livelihood for Small Tea Growers' of Assam
Golaghat, Assam- March 23, 2016: Centre for Education and Communication (CEC) organised a two-day workshop-cum-training programme for small tea growers of Golaghat, Jorhat and Karbi Anglong on March 15-16.
Titled, 'Sustainable Livelihood for Small Tea Growers', the programme was conducted at Hotel Lucious, Golaghat, which saw participation of over 30 Small Tea Growers (STGs).
CEC has been playing a key role in these regions to collectivise small tea growers to empower them for direct collective leaf trade with factories and break the monopoly of the exploitative leaf agents.
Since 2011, CEC has been collectivizing the scattered small tea growers by forming Primary Producer Societies (PPSs). As opposed to individual growers, a PPS becomes an empowered group, able to strike a better price realization deal for their leaves with the factories, establish bank linkages and avail Tea Board of India (TBI) welfare schemes.
The workshop-cum- training programme was aimed at equipping the small tea growers with information on PPS management, significance of book-keeping, maintenance of account and leaf trade registers by the PPSs and ways to apply for TBI benefits. Dr. Debojit Bora, Development Officer, TBI apprised the –participant growers on TBI schemes and policies under the 12th Plan for tea growers. Dr. Bora also articulated on the steps that growers can take for financial sustainability in case of adverse crop situation.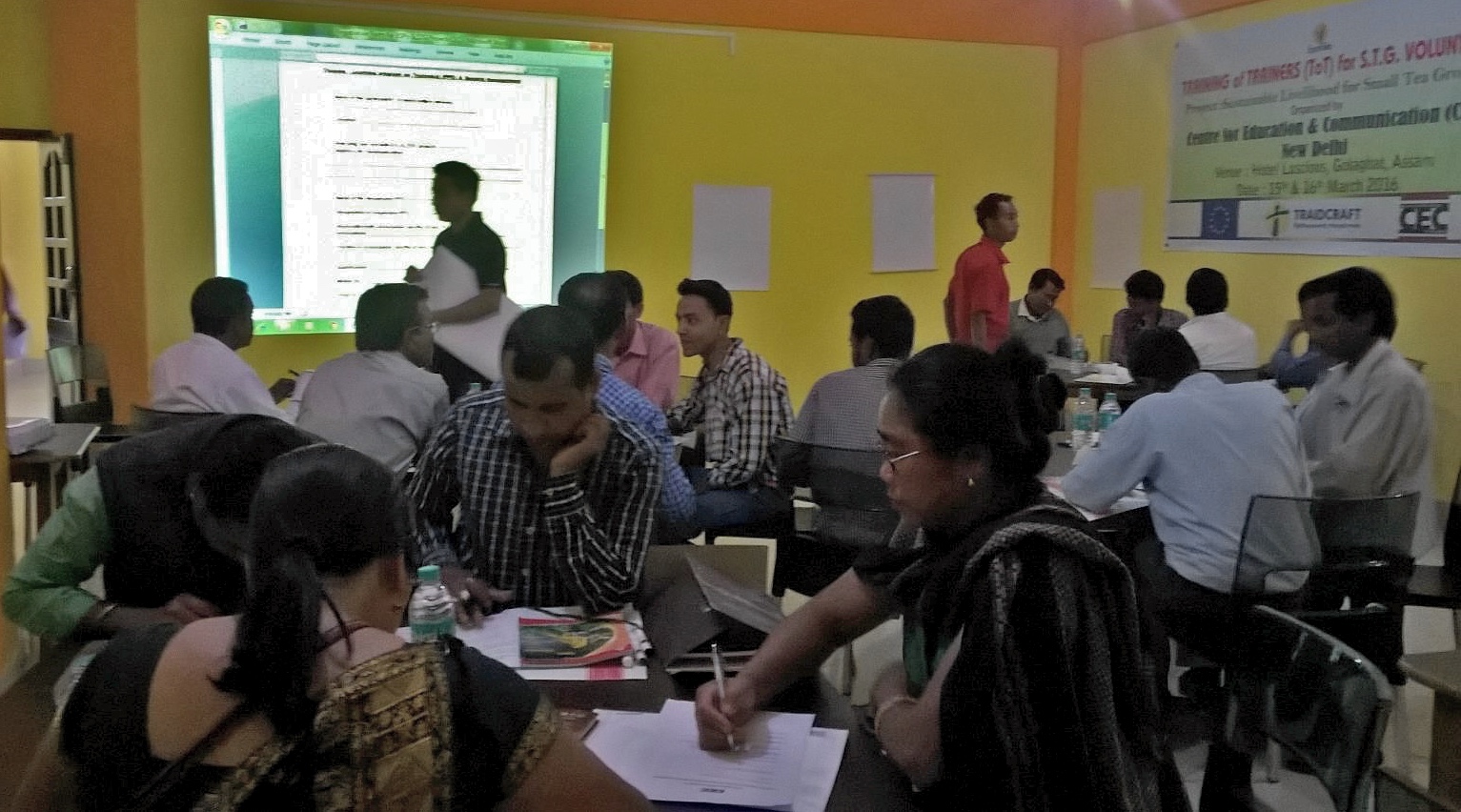 Small Tea Growers interested in moving up the tea value chain were given information on the risks and benefits associated with setting up a tea manufacturing unit.
The PPSs that attended the programme were Dhoroni, Vasundhara and Ratanpur PPSs from Golaghat; Seujuttam, Alok and Rajani PPSs from Jorhat; and Panajan Mini Women Plantation Society from Karbi Anglong among others.
Through a sustained effort of five years, CEC has formed about 550 PPSs collectivizing about 50,000 STGs in the five states of Assam, West Bengal, Mizoram, Tripura and Arunachal Pradesh. The PPSs regularly receive capacity building training that include agricultural, technical , financial, record-keeping and society management training.
CEC's effort towards 'Sustainable Livelihood for Small Tea Growers' is in association with European Commission.