Tea Plantation Workers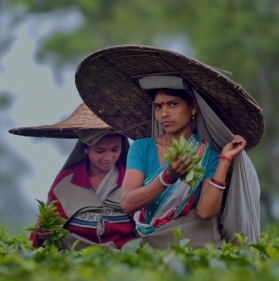 Tea industry is one of the oldest industries in India. In India the four main tea-producing states are Assam, West Bengal, Kerala and Tamil Nadu. Tea is also grown in parts of Tripura and Himachal Pradesh. There are more than one million workers in the tea industry in India comprising mainly of scheduled castes, tribes and ethnic minorities of which more than 50% are women.
Over the past decade, the industry has witnessed a process of restructuring marked by the redefinition of the value chain of tea, assertion of the supremacy of value added marketing over generalised production of tea, global brands leading this process, emergence of small tea growers a new model of production vis-à-vis big plantation estates, emergence of bought leaf factories outside plantation structure to cater to the leaf produced by small growers, the growing informalisation of plantation labour etc. These factors, coupled with fluctuations in the global demand and supply of processed tea, have resulted in an unprecedented fall in the auction prices of processed tea in Indian market beginning from 2000. This led to a phenomenon widely known as 'abandonment' and / or 'closure' of tea plantation estates in India.
Abandonment is a situation in which the management of a tea estate literally leave the tea estate abandoning the estate and all the mandatory management functions. Plantations being self-contained economic and social units, the consequences of abandonment of the estates are lethal and drastic. Thousands of workers will suddenly become unemployed and without wages, electricity gets cut of, water supply stops, factory closes, and schools and hospitals become dysfunctional. Abandonment is not legally closure. Tea estates are registered under Companies Act, 1956 and are mandated to comply with closure procedures as defined by the Industrial Disputes Act, 1947. However, the effect is that of an illegal closure. The situation is then ripe for an unprecedented humanitarian crisis in which thousands of workers and their children and the elderly are left to fend for themselves in locations where there is little source of alternative livelihood options.
Centre for Education and Communication (CEC), New Delhi, in 2003, undertook a fact-finding study on the closed and abandoned tea gardens in West Bengal, Tamil Nadu and Kerala along with central trade unions and other stakeholders. The report shed light on the inhuman living conditions and starvation deaths in these gardens and invited much of public attention and interventions. From a preliminary observation, it was found that in 2007 in West Bengal there are 13 closed and abandoned tea estates in Jalpaiguri district and two tea gardens in Darjeeling district are under 'suspension of work'. In Tamil Nadu there are two closed tea gardens in The Nilgiris. In Idukki district of Kerala 14 tea estates and 11 factories are abandoned, in Thiruvananthapuram district 2 tea gardens are closed and 3 are abandoned and in Wayanad district 2 tea gardens are closed and 4 tea gardens are abandoned respectively.