December 15 International Tea Day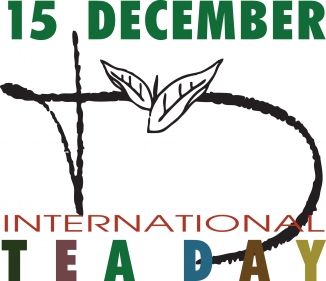 14th International Tea Day – 15th December 2018
International Tea Day (ITD) is celebrated on December 15 every year.
"The day surely celebrates tea but there's lot more to it - there's a purpose and agenda. The day aims to spread awareness about the tea producing countries, the tea growers, their communities and the trade of tea. It draws global attention of governments and citizens to the problems of tea industry, tea production and the impact of the global tea trade on the workers." writes Ruhani Sandhu on her blog
International Tea Day is observed on the 15 of December to affirm the rights of small tea growers and tea. This declaration came in the aftermath of the deliberations among various international organizations and trade unions during the World Social Forum in Mumbai, India, 2004 and Porto Alegre, 2005. Since then, International Tea Day has been observed every year.
The broad aims of this day is to affirm the rights of tea plantation workers and small growers, and build awareness and responsiveness among all the concerned bodies; to identify necessary policy decisions both nationally and internationally and to advocate the promulgation of policy decisions, institutional systems, and their implementation; to suggest regulatory mechanisms to be set up at various levels; to strengthen future advocacy and campaign at an international level, and to facilitate tea consumption and promotion of trade in tea.
In India the call to observe International Tea Day was given by trade unions - AITUC, AICCTU, BMS, CITU, HMS, INTUC, UTUC, NTUI, and TUCC - and the Centre for Education and Communication, New Delhi. On this day trade unions, workers' organizations and other civil society organizations come together and organise seminars, dialogues, and public events, and submit a list of demands to the government.
This year, on the occasion of 14th International Tea Day, Small tea growers and Workers in India celebrate it (14th ITD) with an increased sense of relevance and accountability. On this occasion, we bring attention of Tea Board of India and other policy makers to the most crucial issues that the tea growing community is struggling with.
Low Wages
One of the biggest issues plaguing the tea industry in India is that of low wages. The daily wages paid falls far below the statutory mandated minimum wage. As a result, workers struggle to meet their basic living needs. In August of this year, tea workers in West Bengal went on strike to protest the low wages. The standard prevailing wage is just Rs 150/day, though the prescribed minimum wage for unskilled labour in West Bengal is Rs. 244/day, with MGNREGA wage at Rs. 191/day. The unions also argue that this work requires some degree of skill and must be treated as semi-skilled work, with a higher wage.
Apathetic Living Conditions
Another pressing concern is the appalling living conditions of the workers. Plantation owners are required to provide adequate housing and sanitation; however, multiple investigations have revealed the abysmal conditions in which the tea workers live. Houses were found in dilapidated conditions, with leaky roofs, no electricity or water. Most houses do not have functional toilets, leaving the workers with no option but to defecate in the open, which exposes them to disease. Further, the workers are in poor health with and little access to adequate healthcare. The low wages also contribute to this problem, and the workers suffer diseases of poverty such as acute malnutrition and chronic energy deficiency.
Abandonment and Closure of Tea Plantation Estates
Abandonment is a situation in which the management of a tea estate literally leave the tea estate, abandoning the estate and all the mandatory management functions. Plantations being self-contained economic and social units, the consequences of abandonment of the estates are lethal and drastic. Thousands of workers will suddenly become unemployed and without wages, electricity gets cut of, water supply stops, factory closes, and schools and hospitals become dysfunctional. Abandonment is not legally closure. Tea estates are registered under Companies Act, 1956 and are mandated to comply with closure procedures as defined by the Industrial Disputes Act, 1947. However, the effect is that of an illegal closure. Thousands of workers, their children and the elderly are left to fend for themselves in locations where there is little source of alternative livelihood options. There have been numerous accounts of starvation deaths as a result of unemployed workers being unable to meet their basic survival needs.
Crop Loss as a result of Climate Change
Small tea growers are essentially farmers engaging in the cultivation of tea as a crop. Tea is grown only in specific geographical and ecological conditions, but these areas are highly sensitive to climate change induced factors. Changing weather patterns and increasing global temperatures is affecting the cultivation of tea. Uneven and untimely rain, hotter summers and longer droughts are all changing the quality and quantity of tea, and in turn causing heavy losses to the farmers. There has been a decline in overall tea production per hectare. There is a need to take stock of the problem and develop long-term solutions.
Labour Rights Violations
Apart from the terrible living conditions and lack of healthcare, tea workers are also facing other labour rights violations such as forced labour, child labour, limited access to education and lack of occupational safety.
This is not an exhaustive list of the problems being faced in this industry, but only the ones that need our immediate attention.
For details please click on the links below.
Links